Interior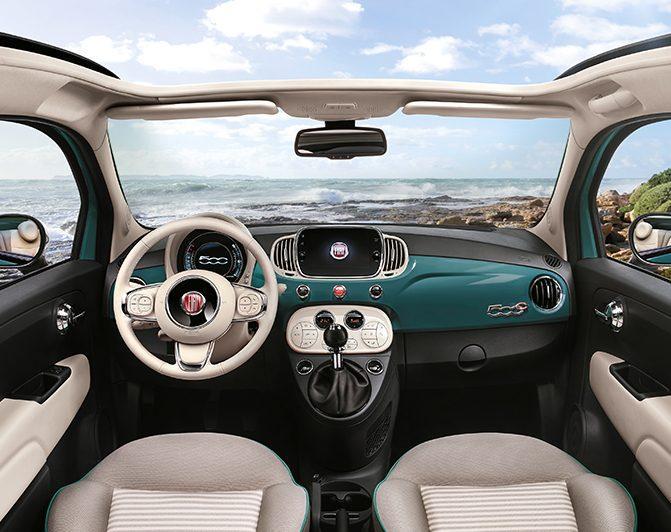 Iconic on the outside, high-tech on the inside.
Vintage mood meets latest-generation technology. The upholstery evokes the Dolce Vita era, the body-coloured dashboard adds a bright touch, and the 5" Touchscreen Radio creates a carefree and connected interior. Fiat 500 Anniversario the best connection to 1957.
The visual is showing optional Tech Pack including 7" TFT Instrument Cluster and 7" HD Touchscreen Radio with Apple CarPlay and Android Auto™.
Technology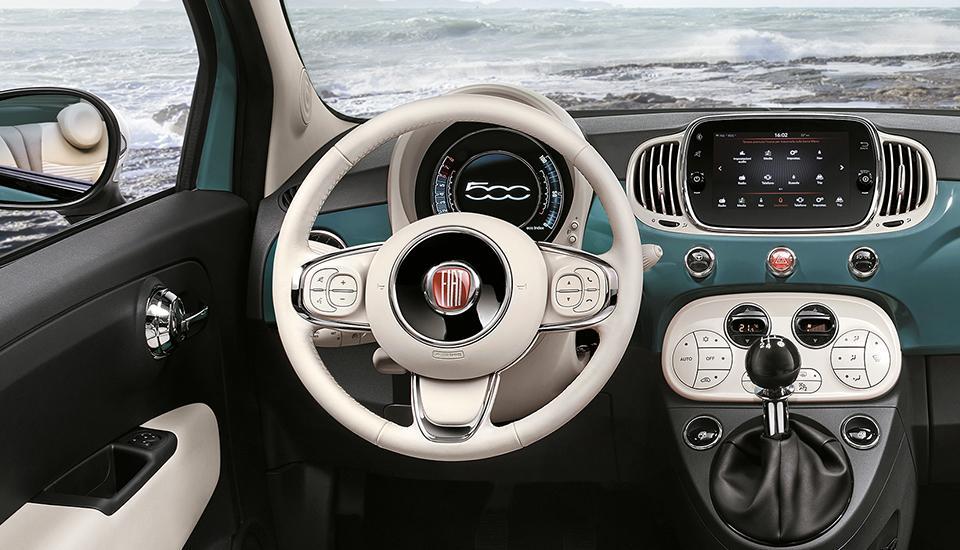 Sixty years of technology
Years go by and technology evolves. If you choose to add the Tech pack, your Fiat 500 Anniversario will be complete with 7" TFT Instrument Cluster and 7" HD Touchscreen Radio.
The system is compatible with Apple CarPlay and Android AutoTM.
With the Tech Nav pack, you also get Tom Tom navigation with 3D maps, point of interest, car parks and fuel station search, and safety cameras and weather information thanks to the Tom Tom LIVE* services.
Technology and vintage have never been so close.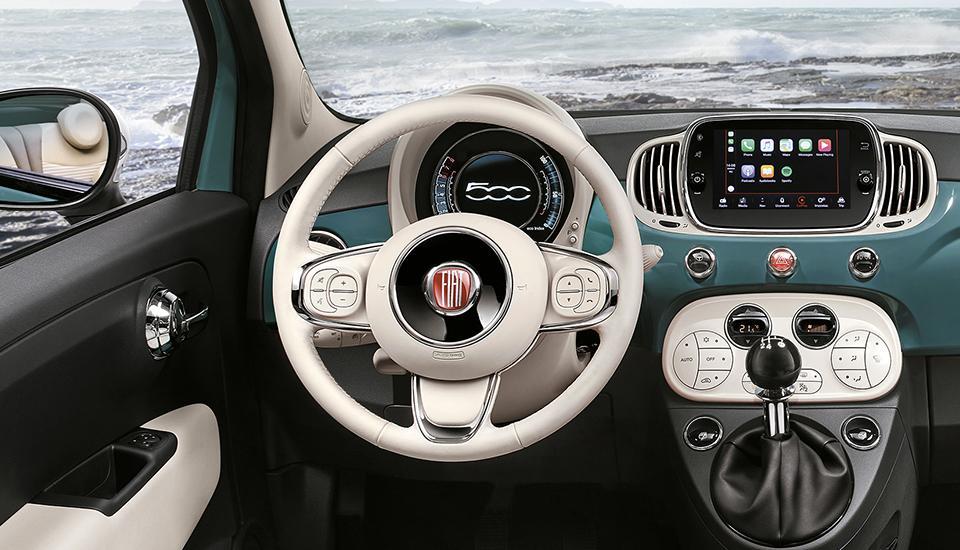 Apple CarPlay
The new Fiat 500 Anniversario is available with Apple CarPlay (optional). Apple CarPlay is the smarter, safer way to use your iPhone in the car. With all the main functions and apps, specially adapted for CarPlay, on the screen of your Fiat 500 Anniversario, you can get directions, make calls, send and receive messages and listen to music, all in a way that allows you to stay focused on the road. With Siri you can control everything using voice commands, or you can use the touchscreen or car controls if you prefer.
Performance & Safety

Simply unsurpassable
With the Speed Limiter, the Fiat 500 Anniversario lets you set your maximum speed at the start of your journey, and be certain you will never exceed it. Why break the speed limits? The faster you go, the less time you spend in the Fiat 500 Anniversario.

No inclines, just routes
Vintage soul and state-of-the-art technology. Pulling away smoothly on inclines is easy with the Fiat 500 Anniversario thanks to the Hill Holder function which holds the brakes preventing the vehicle from rolling backwards. The only reason the Fiat 500 Anniversario goes backwards is to re-explore the genuine Fiat 500 style.